Interview // Santhi Maniam
Santhi worked as a consultant. Now she has her own art gallery.


"I believe that all I have learned and gained and lost as a consultant was to prepare me in every way to be who I am now."

Santhi



You were born and grew up in Malaysia and you worked as a consultant for many years. When did you get to the point to become an artist?

After about 12 years of working, there came a point in my career that the work didn't bring as much meaning or satisfaction to me. I was craving for something else, a way to express myself. That was when I met with an Malaysian artist that was giving art classes and I started going for classes after work, and during the weekends. I found art by chance, or perhaps it was just destiny and meant to be. Who knows. I did not learn art the conventional academic way. However, my art classes or sessions were more of an apprenticeship, or hands on learning. It had a great impact on me and I believe everyone has a creative side that just needs to be developed and nourished.


Can you see the importance in your life, that you first became a consultant and later an artist, even if you are following now more your own path as an artist?

I have not thought about it that way. I believe that all I have learned and gained and lost as a consultant was to prepare me in every way to be who I am now.



In Denmark, you have started your own gallery, you organize workshops. How easy is it for you to dream big?

Have Big Dreams and you will grow into them. A quote I have in my children's room. The challenge initially was self. I had to acknowledge that I am an artist. After many years establishing my identity as a Consultant, I had self-doubts about who I was and what I can do. It took some courage to take ownership of my art and creativity. Once I did it, I realise I didn't have to be one or the other. I can be both and that is me. It need not be separate, it is what makes me, me. There are times, I would like to express myself through art and at times, I want to express my experience and knowledge as a consultant. Now I can put both into practice. Having said that, I am still learning to juggle my roles. Someone once said, sometimes even dreaming big could be a challenge. It made me laugh and I think that is true. We first have to change our mindset. There is abundance everywhere, and more than enough for everyone to think big. With that, sky is the limit.



How do you work best: If you have some pressure or if you have all the time you want to paint a picture? How do you get your ideas?

I work best with a little pressure, at a manageable level, not too much that I totally give up. It is good to have a deadline for submission as it gives you the inertia to get started and finish within a time frame.
At times, certain exhibitions have a set theme that sort of triggers the creative process. However I have always found, no matter how much I plan and think about a piece of work, the end result always ends up surprising me. It is as though, as much I have an idea about how I want the work to be, what comes out is beyond my control. I am mostly inspired by nature and they totally awe me, the forms, structures and colors. Whether it is a tiny leave, a tree or the sky. At times, an idea comes, and as I try to capture it takes another shape. I try to let it flow and see what emerges.


There are some artists who want to give a message to people or others who want to express their inner self. What would you say is important for you?
Painting gives me a sense of calmness, stillness and peace. It is like prayer or meditation for me. It was my source of energy and inspiration, especially when I first moved to Denmark. It was my anchor when all that was familiar was far from my sight and I was struggling to find a place for myself. My intention is not to give a direct message. I always start off with wanting to express my vision of something, however I believe the end result give a message to the viewer and we each get a different message, meaning and connection to the painting.


Do you think, you have to be a kind of believer to find your own way of living or what else is it, that gives the sign to start and find the own path?

What I have learned is , when you have given your all to find a way to be, and still there are many obstacles and struggles, LET GO and go with the FLOW. Trust the universe to bring you what is best for you. You will find your path, perhaps it was always there, but you need to just clear a few things to be able to see it. I believe every experience and challenge and person who comes into your life was put there for a reason and whenever you find your path, is the right time. We just have to accept it. There is no turning back time or moving it forward. Time is very objective and impartial.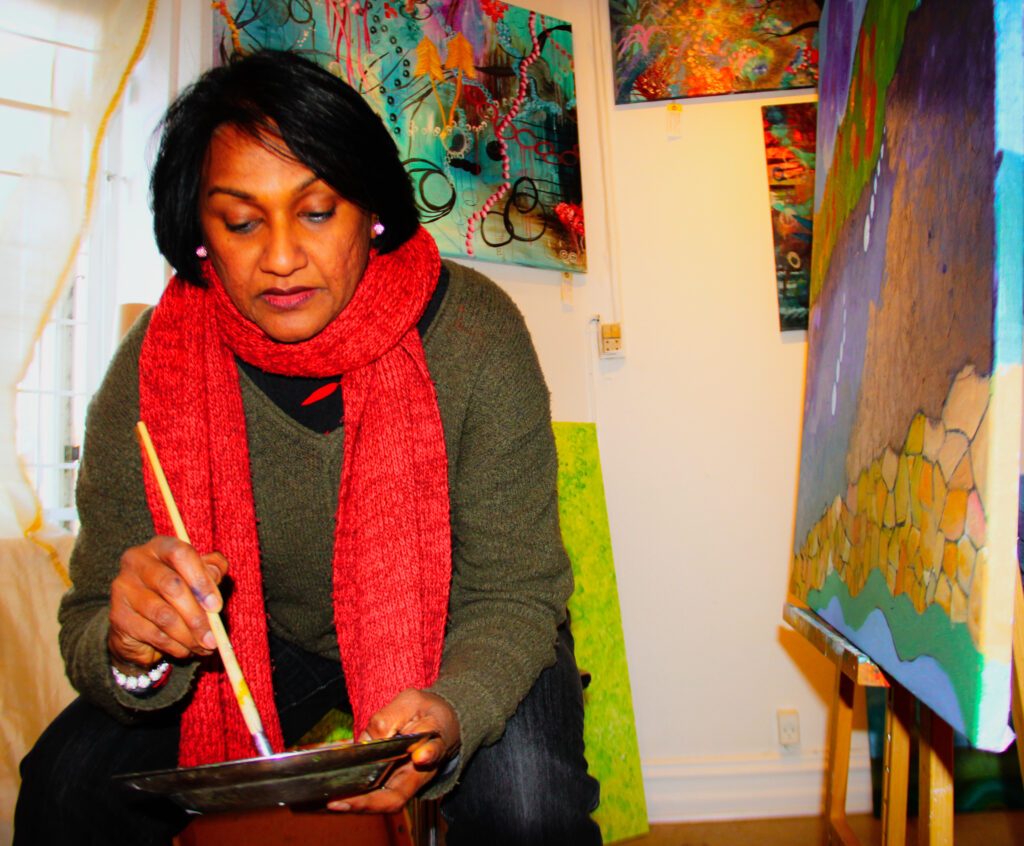 Can you give a suggestion to people who are in doubt in following their own path?

Be open and welcome change and new ways. It is not easy and you will always have your doubts. However, what helps is to accept that there are many paths in life and at times the most unlikely could be the best choice. Be flexible, your path might change and be willing to explore and be open, a new or better path might emerge or an old path might not be relevant anymore. In whatever path you are, give your best and be true to your self. You will know how it feels.


Thanks a lot for this interview!✨
You can follow Santhi on Facebook and Instagram for more information!



With love✨
Maja
#lahviart: Die Kunst des Lebens
#lahviartinterview